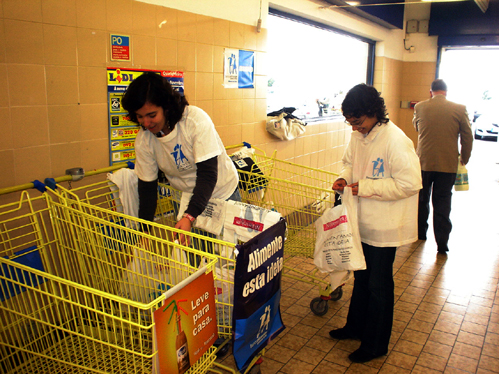 A bag for a starving mouth
This week-end the rain stopped. It was just the right time for doing something good. Sunday is an excellent day for shopping, but this wasn't an ordinary shopping day. In every big supermarket from the town, volunteers of the Food Bank of Portugal collected food products from the shoppers.
> Ionela Aman
> George Toma

The campaign organized this week-end by Food Bank of Cova da Beira finished with the collecting of 38 tons of food. These products will get to 3000 persons in need, with the help of 36 institutions of social solidarity. Almost 400 volunteers participated in this action that was organized in 25 supermarkets.
Susana is a volunteer for Food Bank of Portugal and participated until now in four campaigns. This week-end she spent her free time in a supermarket helping people. Alongside her colleague she shared bags, in which shoppers could put food for the persons in need. Many returned with the bag full, others don't. The food basket near the two girls isn't full, but the day is just starting.
The two girls smile each time a shopper enters the store. They know what to say. They hand the bag and then return to their places. Then, another customer comes and they have to smile again. This routine is heavy, but, thinking of the purpose, the girls pass every situation. They are optimistic. The food will arrive to the right places and their help is essential. Susana received from every campaign she participated in the emotional reward she needed.
Ana is standing next to her, smiling and handing the bags. She doesn't talk so much. Maybe, because she does this for the first time. She's nervous, but with every bag that she is putting in the food basket she gains confidence.
The people are used with their presence. Still, as the girls say, mainly the old people come back with the bags full. "Maybe because they have more life experience and they understand the people in need", confesses Susana.
At the entrance of another supermarket three other girls are waiting for the shoppers. They are younger than the others. Vitoria and Ana Luisa are in the eight grade and Mafalda is the junior, in the sixth grade. They are here because "it's nice to make good", as Ana Luisa says. Mafalda is the shyest. She stays in the back, near the food basket and holds tight the plastic bags.
The girls don´t know much about this campaign of Bank of Portugal. They only heard from friends and family. But the spirit got them. It is almost one o'clock p.m. Three other girls come to take their places. They receive the food basket and the bags. From now, it's their responsibility to collect food.